NEXT SCREENINGS
Our next screenings are Francis Ford Coppola's classic, 'THE GODFATHER', Thursday 17th November 19:30 & Sunday 20th 14:00, Ken Loach's poignant 'CATHY COME HOME' Thursday 24th November & in a tribute to the late great Jean Luc Godard 'ALPHAVILLE' Wednesday 30th November 19:30 @ THE CASTLE CINEMA

Get your tickets: HERE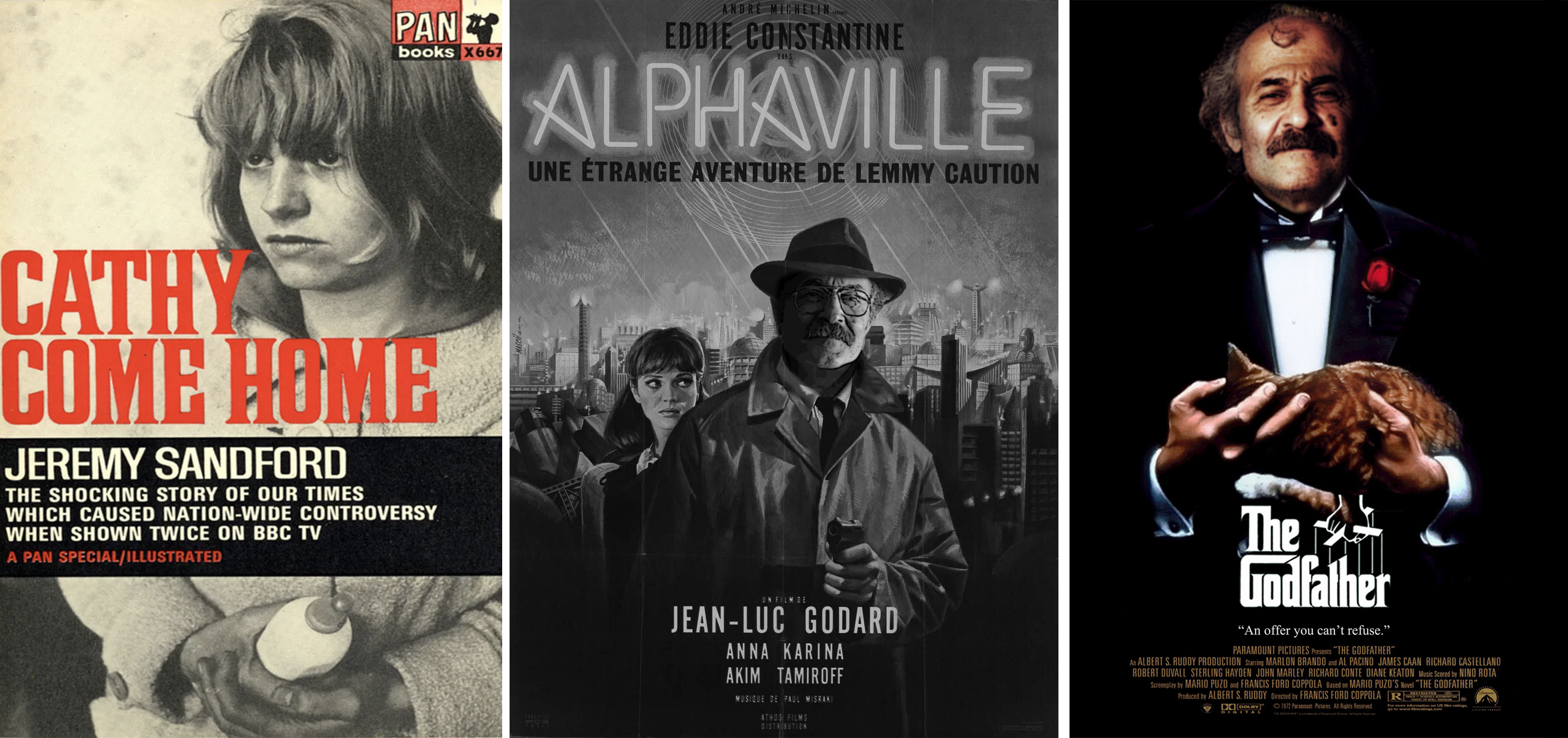 THE GODFATHER (1972)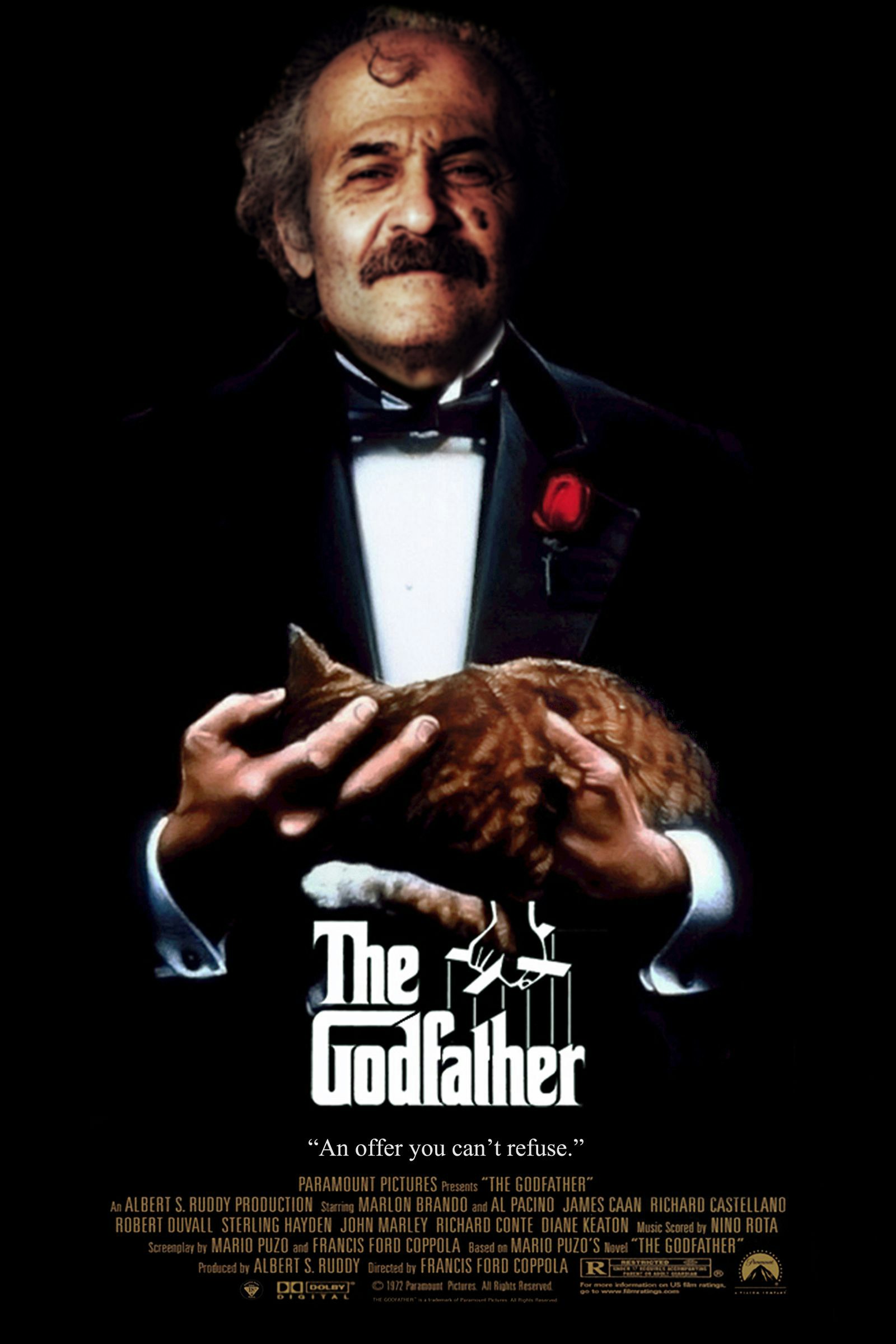 "The Godfather" is told entirely within a closed world. That's why we sympathise with characters who are essentially evil. The story by Mario Puzo and Francis Ford Coppola is a brilliant conjuring act, inviting us to consider the Mafia entirely on its own terms. Don Vito Corleone (Marlon Brando) emerges as a sympathetic and even admirable character; during the entire film, this lifelong professional criminal does nothing of which we can really disapprove.
During the movie we see not a single actual civilian victim of organised crime. No women trapped into prostitution. No lives wrecked by gambling. No victims of theft, fraud or protection rackets. The only police officer with a significant speaking role is corrupt.
The story views the Mafia from the inside. That is its secret, its charm, its spell; in a way, it has shaped the public perception of the Mafia ever since. The real world is replaced by an authoritarian patriarchy where power and justice flow from the Godfather, and the only villains are traitors. There is one commandment, spoken by Michael (Al Pacino): "Don't ever take sides against the family."
It is significant that the first shot is inside a dark, shuttered room. It is the wedding day of Vito Corleone's daughter, and on such a day a Sicilian must grant any reasonable request. A man has come to ask for punishment for his daughter's rapist. Don Vito asks why he did not come to him immediately.
"I went to the police, like a good American," the man says. The Godfather's reply will underpin the entire movie: "Why did you go to the police? Why didn't you come to me first? What have I ever done to make you treat me so disrespectfully? If you'd come to me in friendship, then this scum that ruined your daughter would be suffering this very day. And if, by chance, an honest man like yourself should make enemies . . . then they would become my enemies. And then they would fear you."
As the day continues, there are two more scenes in the Godfather's darkened study, intercut with scenes from the wedding outside. By the end of the wedding sequence, most of the main characters will have been introduced, and we will know essential things about their personalities. It is a virtuoso stretch of filmmaking: Coppola brings his large cast onstage so artfully that we are drawn at once into the Godfather's world.
The screenplay of "The Godfather" follows no formulas except for the classic structure in which power passes between the generations. The writing is subtly constructed to set up events later in the film. Notice how the request by Johnny Fontane, the failing singer, pays off in the Hollywood scenes; how his tears set up the shocking moment when a mogul wakes up in bed with what is left of his racehorse. Notice how the undertaker is told "someday, and that day may never come, I will ask a favor of you. . ." and how when the day comes the favor is not violence (as in a conventional movie) but Don Vito's desire to spare his wife the sight of their son's maimed body. And notice how a woman's "mistaken" phone call sets up the trap in which Sonny (James Caan) is murdered: It's done so neatly that you have to think back through the events to figure it out.
Now here is a trivia question: What is the name of Vito's wife? She exists in the movie as an insignificant shadow, a plump Sicilian grandmother who poses with her husband in wedding pictures but plays no role in the events that take place in his study. There is little room for women in "The Godfather." Sonny uses and discards them, and ignores his wife. Connie (Talia Shire), the Don's daughter, is so disregarded that her husband is not allowed into the family business. He is thrown a bone--"a living"--and later, when he is killed, Michael coldly lies to his sister about what happened.
The irony of the title is that it eventually comes to refer to the son, not the father. As the film opens Michael is not part of the family business, and plans to marry a WASP, Kay Adams (Diane Keaton). His turning point comes when he saves his father's life by moving his hospital bed, and whispers to the unconscious man: "I'm with you now."
After he shoots the corrupt cop, Michael hides in Sicily, where he falls in love with and marries Appolonia (Simonetta Stefanelli). They do not speak the same language; small handicap for a Mafia wife. He undoubtedly loves Appolonia, as he loved Kay, but what is he thinking here: that he can no longer marry Kay because he has chosen a Mafia life? After Appolonia's death and his return to America, he seeks out Kay and eventually they marry. Did he tell her about Appolonia? Such details are unimportant to the story.
What is important is loyalty to the family. Much is said in the movie about trusting a man's word, but honesty is nothing compared to loyalty. Michael doesn't even trust Tom Hagen (Robert Duvall) with the secret that he plans to murder the heads of the other families. The famous "baptism massacre" is tough, virtuoso filmmaking: The baptism provides him with an airtight alibi, and he becomes a godfather in both senses at the same time.
Vito Corleone is the moral center of the film. He is old, wise and opposed to dealing in drugs. He understands that society is not alarmed by "liquor, gambling . . . even women." But drugs are a dirty business to Don Vito, and one of the movie's best scenes is the Mafia summit at which he argues his point. The implication is that in the godfather's world there would be no drugs, only "victimless crimes," and justice would be dispatched evenly and swiftly.
My argument is taking this form because I want to point out how cleverly Coppola structures his film to create sympathy for his heroes. The Mafia is not a benevolent and protective organization, and the Corleone family is only marginally better than the others. Yet when the old man falls dead among his tomato plants, we feel that a giant has passed.
Gordon Willis' cinematography is celebrated for its darkness; it is rich, atmospheric, expressive. You cannot appreciate this on television because the picture is artificially brightened. Coppola populates his dark interior spaces with remarkable faces. The front-line actors--Brando, Pacino, Caan, Duvall--are attractive in one way or another, but those who play their associates are chosen for their fleshy, thickly lined faces--for huge jaws and deeply set eyes. Look at Abe Vigoda as Tessio, the fearsome enforcer. The first time we see him, he's dancing with a child at the wedding, her satin pumps balanced on his shoes. The sun shines that day, but never again: He is developed as a hulking presence who implies the possibility of violent revenge. Only at the end is he brightly lit again, to make him look vulnerable as he begs for his life.
The Brando performance is justly famous and often imitated. We know all about his puffy cheeks, and his use of props like the kitten in the opening scene. Those are actor's devices. Brando uses them but does not depend on them: He embodies the character so convincingly that at the end, when he warns his son two or three times that "the man who comes to you to set up a meeting--that's the traitor," we are not thinking of acting at all. We are thinking that the Don is growing old and repeating himself, but we are also thinking that he is probably absolutely right.
Pacino plays Michael close to his vest; he has learned from his father never to talk in front of outsiders, never to trust anyone unnecessarily, to take advice but keep his own counsel. All of the other roles are so successfully filled that a strange thing happened as I watched this restored 1997 version: Familiar as I am with Robert Duvall, when he first appeared on the screen I found myself thinking, "There's Tom Hagen."
Coppola went to Italy to find Nino Rota, composer of many Fellini films, to score the picture. Hearing the sadness and nostalgia of the movie's main theme, I realized what the music was telling us: Things would have turned out better if we had only listened to the Godfather.
CATHY COME HOME
Fifty years ago today, approximately 12 million viewers tuned in to BBC1 on UK television to watch Cathy Come Home. They would have had some idea of what to expect. The show was a weekly instalment of The Wednesday Play, an anthology series renowned for its daring subject matter and tackling social issues of the day. But few could have predicted the impact that this particular episode would have.
Written by Jeremy Sandford and directed by a young Ken Loach, the story follows young working class girl Cathy (Carol White) whose optimism upon moving to London, finding a job and falling in love spirals into despair when a series of unfortunate but painfully plausible setbacks leaves her homeless. First her husband Reg (Ray Brooks) loses his job as a lorry driver after sustaining an injury, which, coinciding with the birth of their first child, forces them to leave their fancy rented studio. Then, when their financial situation fails to improve and Cathy has another two children, they move between overcrowded accommodation, caravans, squats and homeless shelters, all at the mercy of heartless landlords and judgemental locals, and in the vain hope that council housing might become available.
Eventually, in a devastating final scene, Cathy seeks shelter at Waterloo station with nowhere else to go. Social services turn up to forcibly take the children away from her amidst a cacophony of heartbroken screams.
Viewers were shocked, outraged and determined to do something about the injustices they'd witnessed. BBC phone lines were inundated with inquiries offering help, many flocked to join charity for the homeless Shelter – which (coincidentally) launched just weeks after the broadcast. The show was even discussed in parliament. Overnight the issue of homelessness had become a national conversation, and influenced laws allowing husbands to accompany their wife and children at homeless shelters (in the film, Reg is forced to find his own accommodation separately) and, eventually, the Housing Act of 1977 (even if it didn't usher in the larger structural changes Loach longed for). How could a single episode of television have such an impact?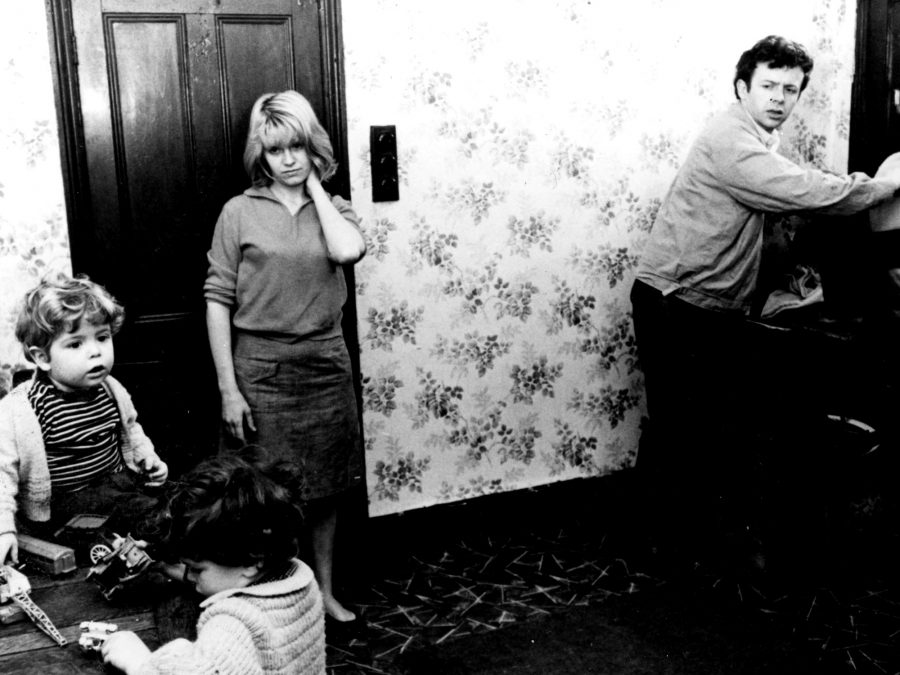 Although still referred to as The Wednesday Play, it was the characteristics that distinguished Cathy Come Home from the theatre that was key to its success. Firstly was its reach. Unlike a play, where only a select few are able to get a ticket, Cathy Come Home was beamed simultaneously to roughly a quarter of the entire UK population. With most households already having access to a television, but having only three channels to choose from, there had arguably never been a time where one art-form could benefit from so much guaranteed exposure.
Recognising the medium as a potential vehicle for social change, Sandford and Loach set out to address the kind of issues that had hitherto been ignored by television and targeted audiences' sense of decency and moral consciousness. Sandford's script created relatable characters with believable problems, while an informal first person narration from Cathy helped make her identifiable.
It was the naturalistic direction that really got under the skin, however. Most television dramas at the time were filmed in studios, but Loach, in the manner of the similarly socially-realist kitchen sink dramas of the British New Wave, shot almost all of Cathy Comes Home out on the streets. He employed a cinema verité aesthetic, with many scenes being improvised and some members of the public being filmed unknowingly, all of which amplified the action's disconcerting realism.
The effect was startling. Many viewers confused the fiction for reality, and there were stories that Carol White was approached in the street and offered money by members of the public believing her to be Cathy. Some in the media were scandalised by its techniques, with a review in The Daily Telegraph accusing it of misleading its viewers by not making clear what was real and what wasn't. But it was this naturalistic style that was key to expressing that this was a television show about real people's lives, people who were in urgent need of help.
Watching Cathy Come Home today, it's striking just how familiar the concerns are. Whereas most pop culture invites us to remember 1960s London as a time of swinging hedonism and garish chic depicted in works such as A Hard Day's Night, it reminds us that beneath the glamorous sheen the same problems existed. Cathy's plight is one of a lack of affordable or council housing, and other disgruntled characters place the blame on that all too familiar scapegoat – the migrant.
ALPHAVILLE

At a time when 10,000 of the world's leading physicists are holed up in a Swiss bunker engaged on a project that may one day enable them to pretend they understand the nature of the universe, Alphaville has never seemed more timely.

Jean-Luc Godard's film – "a science fiction film without special effects" in the words of the critic Andrew Sarris; "a fable on a realistic ground" in Godard's own description – is a cry of protest aimed at the worshippers of science and logic. Unlike Stanley Kubrick's 2001: A Space Odyssey, which now resembles a picturesque relic of long-abandoned aspirations, Alphaville still seems to be watching the world come to meet it. And the world is very much closer to the director's creation than it was back in 1965.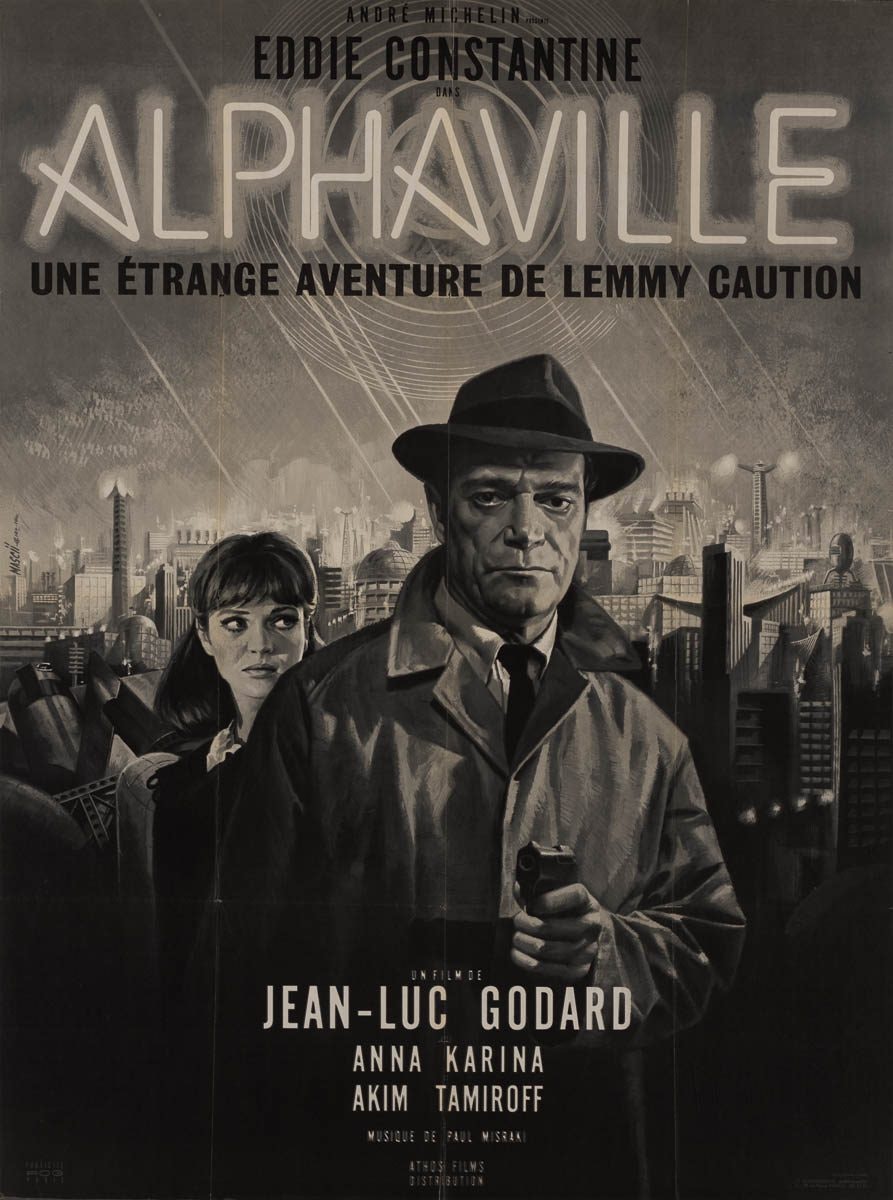 To have seen it in its time – in my case at the Moulin Rouge cinema in Nottingham, which alternated the latest from Godard, Truffaut, Antonioni and Fellini with the creampuff-porn nudist flicks of the pre-Confessions era – was to have been astonished and delighted. The passage of almost half a century has done nothing to dim its stylishness, blunt its humour or extinguish its piercing message.
Eddie Constantine, the expatriate American actor, had already played the weatherbeaten FBI agent Lemmy Caution in several French films based on a series of novels by the British writer Peter Cheyney (sample titles: Dames Get Along and This Man Is Dangerous). Godard invited Constantine to reprise the role and sent Caution into the future, keeping the B-movie conventions intact along with his personal accoutrements – American car, Zippo lighter, raincoat, trilby, button-down shirt. Caution arrives in Alphaville on a mission to find a lost agent and assassinate Professor von Braun, the architect of a state whose people are ruled by logic and science and have been purged of emotion.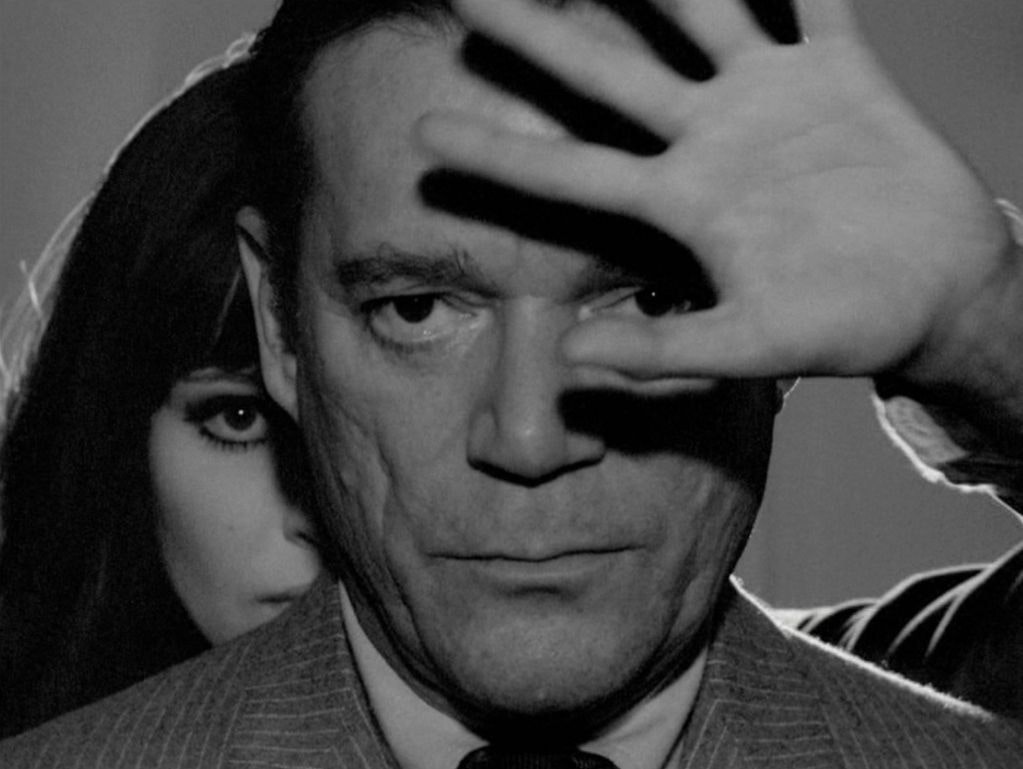 All the elements combine beautifully. Raoul Coutard's black-and-white photography turns everyday objects and settings – a hotel lobby, a swimming pool, a room full of mainframe computers, a jukebox, a Kodak Instamatic, the Paris suburbs at night – into the props of a convincingly dystopian futureworld whose philosophy is outlined in voiceover by the grating, inhuman tones of Alpha 60, the computer that regulates life in Alphaville. (Godard had the lines intoned by an actor who had lost his larynx and spoke through an artificial voice-box.) Paul Misraki's excellent score enhances moments of tension with warning stabs of low brass.
Anna Karina, meanwhile, is at her most darkly luminous as Natacha von Braun, the great leader's daughter. Her programmed responses slowly break down as the hardboiled detective gives his "pretty sphinx" a copy of poet Paul Eluard's Capital of Pain and introduces her to the concepts of "conscience" and "love" – words with which she is unfamiliar, since they have been progressively redacted from the dictionary that is the Bible of her father's totalitarian state. "Nearly every day, words disappear because they are forbidden," she tells him. "They are replaced by new words expressing new ideas." Orwell hovers around this film, along with Borges and Céline.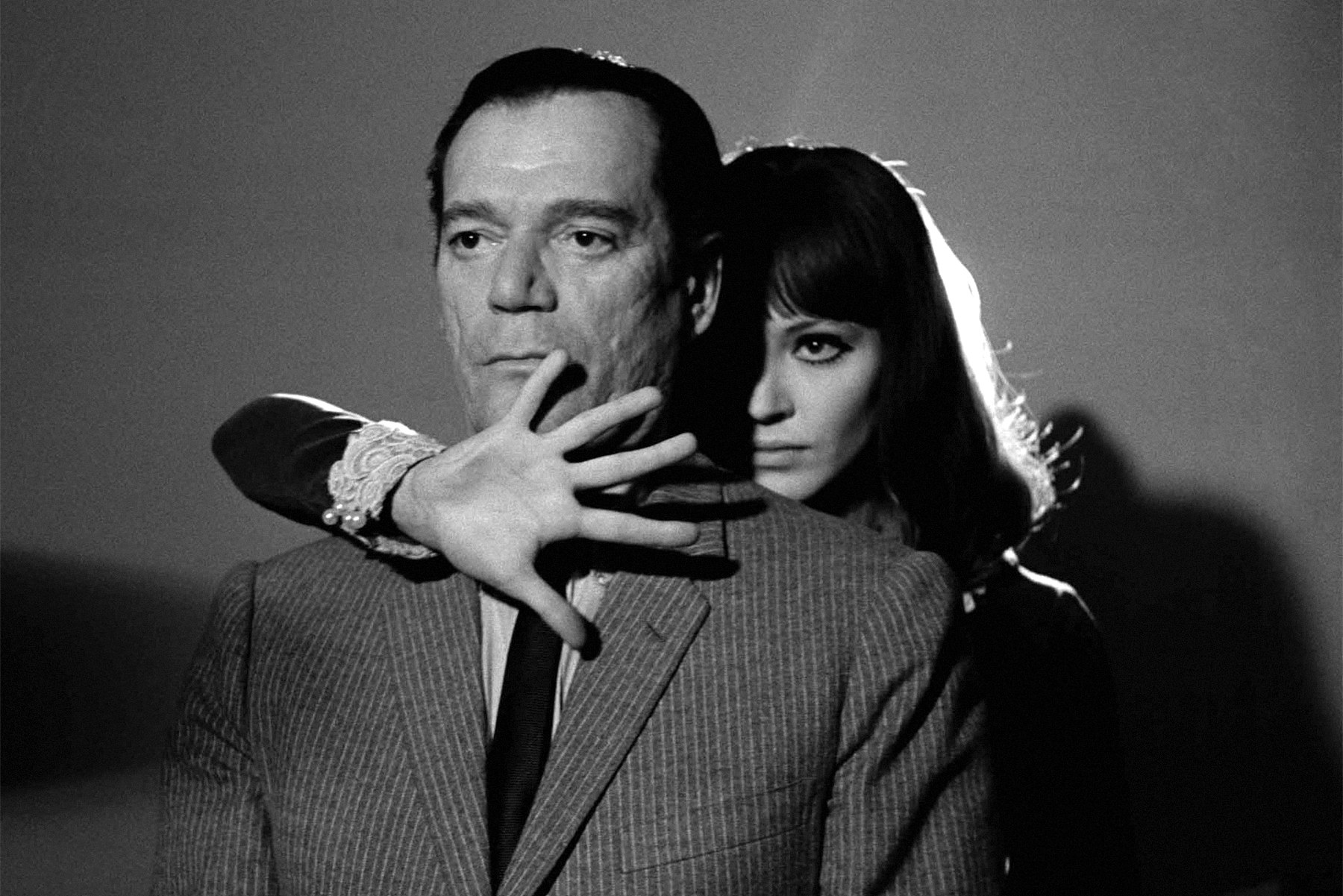 This was Godard's ninth feature film in six years, a rate of production resembling that of Beatles albums. There are signs of haste and improvisation, so Alphaville is much the better for its ability to make us think and trigger our feelings. At times it is a cartoon (the shootings, the use of negative images to convey disorientation) but at others it is more chillingly prescient than ever.
Yet Godard ends the piece on a note of romantic optimism, with Lemmy and Natasha escaping their pursuers and a dying world, fleeing to safety through intersidereal space (otherwise known as the Boulevard Périphérique) as the girl learns a new phrase: "Je vous aime ..."
To join our mailing list email us at: